Desiccants are ideal for protecting packaging and enclosure contents that are susceptible to damage from moisture such as electronic components.
Antistat's desiccants are available in a variety of types such as self indicating silica gel Packets, Activated Clay and Molecular Sieve. The synthetic and natural materials have an absorption performance suited to a wide range of product types, environments and humidity levels.
The addition of Humidity Indicator Cards (HIC) allow a visual check of the humidity levels inside enclosures or packaged items. This also gives a fast evaluation of the desiccant's performance.
Contact an
ESD expert
on +44 (0)1473 836200
(lines open 9am – 5pm GMT Mon-Fri)
Silica Gel
Silica gel is a synthetically produced form of silicon dioxide in the form of hard irregular granules or beads. A microporous structure of interlocking cavities gives a very high surface area making silica gel a high capacity desiccant. Water molecules adhere to the gels surface because it exhibits a lower vapour pressure than the surrounding air. There is no chemical reaction, by-products or side effects produced by silica gel and water vapour is simply absorbed into its internal pores.
You can get silica gel in the form of indicating and non-indicating, the difference being non-indicating gel will remain physically unchanged as a result of moisture absorption whereas indicating silica gel will give a visual indication of the absorption process/level.
A narrow pored granular form of amorphous silica free from extraneous matter. The irregular granules are a white/translucent colour.
Contact us to find out more >>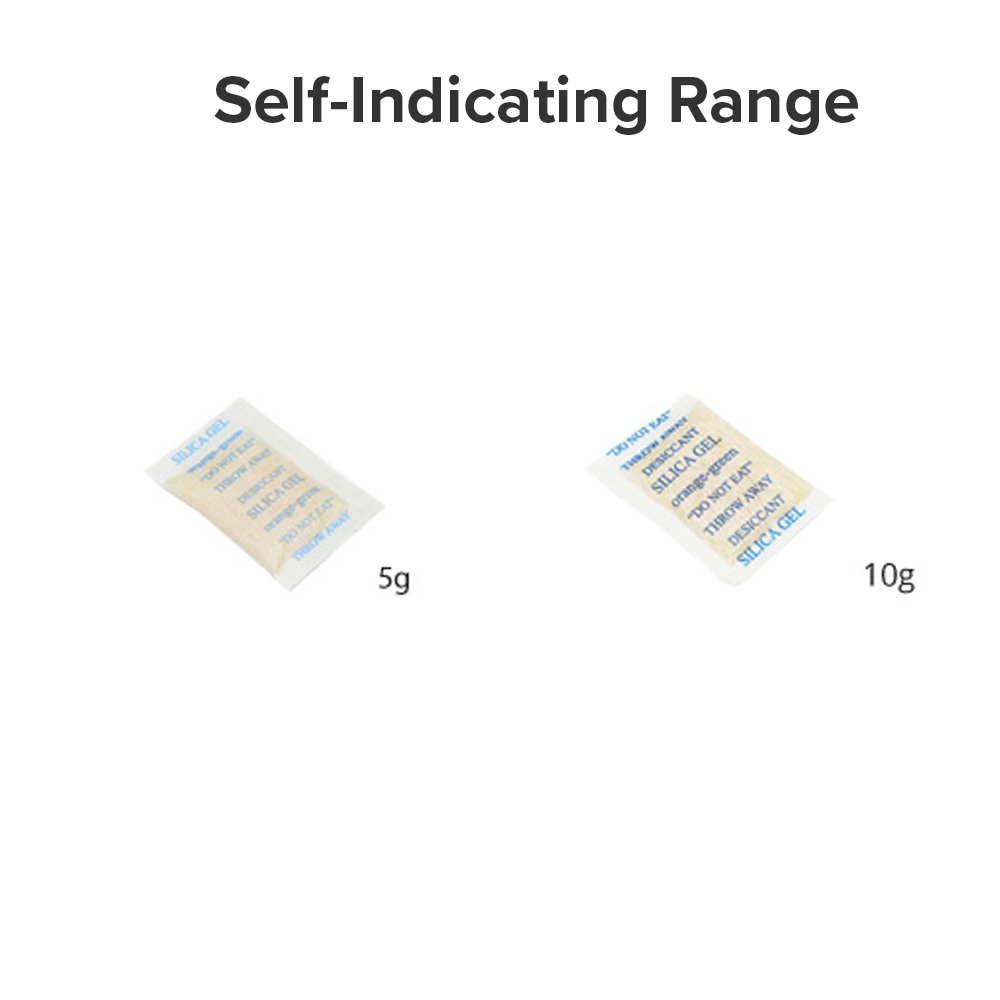 Our range of desiccant bags conform to NATO regulations and provide an economical way of protecting against moisture damage.
Contact us to find out more >>
Clay
Bentonite clay is a naturally occurring mineral as opposed to a chemically synthesized absorbent. Therefore it is more economical than silica gel or molecular sieves. The performance curve exceeds both industry standards, and the silica gel performance curve for these same specifications.
At 20% RH, the activated clay bags will absorb 50% more moisture than required by industry standards, whereas silica gel will only absorb 3.5% more moisture than industry standards require. The packaging is sealed inside a waterproof and moisture vapour-proof container with the inclusion of a desiccant to prevent rust, mildew or corrosion damage. In Method II packaging, the package is maintained at a safe humidity below 40% RH during the normal storage period of 18 months to 2 years.
Activated clay desiccant has approximately 35% lower adsorption capacity than silica gel. The lower cost of clay desiccant balances the overall cost comparison between silica and clay.
Contact us to find out more >>
A 10g bag is ideal for storing inside smaller moisture barrier bags that require a moisture free environment when transported.
Contact us to find out more >>
Molecular Sieve Bag
Synthetically produced molecular sieves target very specific water molecule based on their size and polarity. Molecular sieves will adsorb water molecules and other contaminants from liquids and gases down to very low levels.
Molecular sieve desiccant bags provide the perfect solution to packaging and equipment applications that require low relative humidity levels. Standard bag capacities range from 3g to 500g.
Molecular sieves desiccant is synthetically produced from alumina silicates and has an absorption capacity of approximately 20% (by weight) at a relative humidity of 50% at 25°C.
The main advantages of using molecular sieves desiccant are:
High absorption efficiency at high temperatures
Ability to maintain a low relative humidity
Rapid adsorption performance
Typical applications include, general packaging, electrical/electronic enclosures, electro-optical and optical equipment.
The addition of a colour change indicator card will provide a visual indication of the relative humidity level within the packaging or enclosure. This provides an important check to ensure that the desiccant is still active.
We can also supply molecular sieve bags conforming to Explosives Compatibility Specification HR904.
Contact an
ESD expert
on +44 (0)1473 836200
(lines open 9am – 5pm GMT Mon-Fri)
Speak to our team about desiccants
We have a wide range of desiccants, one of our friendly staff are on hand to talk through your requirements.