ESD Essentials Product Catalogue
We are global leaders in ESD & production consumables. Meeting the challenge of electrostatic discharge and adverse environmental conditions experienced during handling and transportation of sensitive devices and materials.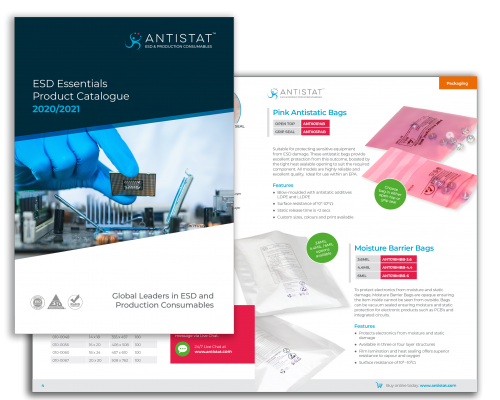 Our ESD Product Catalogue features a range of essential antistatic supplies and tools. These products are manufactured by us and are superior quality for use within your EPA. We have selected some standard products from our best selling ranges including – Antistatic packaging, grounding equipment, ESD tools and more, we have over 2,000 SKU's in stock in our warehouse.

All of our products are used to eliminate or reduce static electricity that's generated when handling or processing electrostatic discharge sensitive devices.
You can download our handy ESD Essentials Product Catalogue for FREE below. And don't forget to look out for the discount code within…
Need more?
We have over 2,000 quality products available online. Browse our selection by clicking here. We also offer expert ESD advice, so you can talk to one of knowledgeable sales team available via Live Chat, Email or Phone +44(0)1473 836 200.