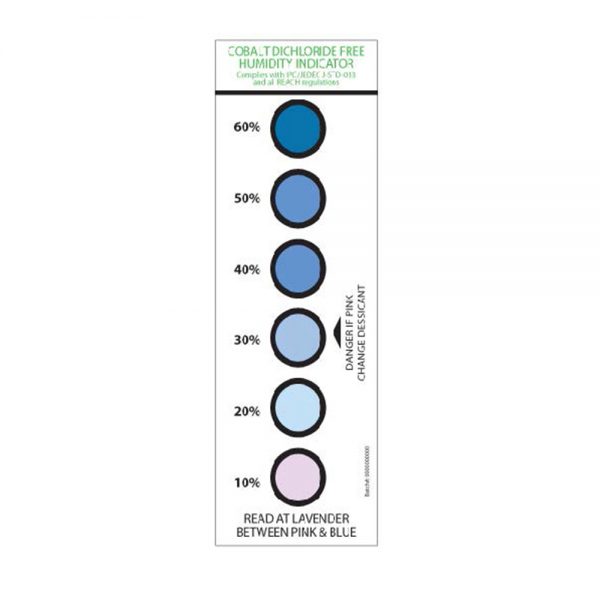 6 Spot Humidity Indicator Card – Cobalt Dichloride Free
 Cobalt-dichloride free humidity indicator cards (HIC) provide electronic and semiconductor manufacturers with a JEDEC-compliant humidity indicator card that is free of Cobalt-Dichloride, a chemical regulated under European Chemical Bureau (ECB) REACH directives. To offer the electronics and semiconductor industries a cobalt-dichloride (CoC12) free humidity indicator card, while maintaining the accuracy required by international JEDEC standards. 
200 HICs per can
£35.95
GBP
EUR
Description
Features and Benefits
Applications
Product Datasheet
Description
Many products such as sensitive semiconductors, electronics, optics, radar and various defence systems are highly sensitive to moisture. In order to constantly verify that dry packaging methods are not compromised during storage and transport of these products, humidity indicator cards allow users along the supply chain to monitor the package conditions. Some companies desire the use of indicators that are free of cobalt dichloride. The cobalt-dichloride free HI cards from Antistat provide verifiable colour change accuracy as required by JEDEC standard J-STD-033B, as well as exceed applicable regulations administered by the ECB.
You can find our standard 6 spot humidity indicator cards here and all other HIC cards here.
Cobalt dichloride free humidity indicator cards are free of cobalt-dichloride (CoCl2), a chemical which has classification and labelling requirements under the European Chemical Agency (ECHA) REACH directives
Fully compliant with JEDEC standard J-STD-033B for colour-change accuracy
Meets all relevant ECB/REACH labelling requirements
Typical applications include the dry packaging of semiconductor and electronic devices