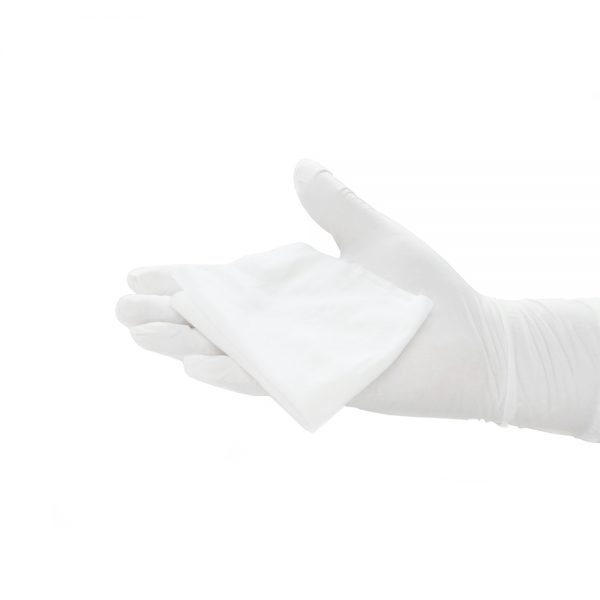 Pre-Saturated IPA Wipe Tub
These best selling tubs of Pre-Saturated IPA Wipes are available as sterile, non-sterile, premium and heavy-duty variants for use in Cleanrooms as well as EPAs within clean environments. Effective against micro-organisms, these wipes are 70% IPA and 30% DI water.
Due to ongoing stock issues with Covid-19, these items are temporarily out of stock.
From £5.10
From: £5.10
Request a Sample
Description
Features and Benefits
Applications
Product Datasheet
Description
Ideal for cleanroom and medical environments, these Pre-Saturated IPA low lint wipes are 70% vv solution of Isopropyl alcohol (IPA) BP and are effective against gram-negative bacteria, fungi and most viruses. Micro-organisms include E.coli, MRSA, Listeria, Salmonella, HIV and TB. For use in ISO6 cleanrooms, the wipes are sized 200mm x 200mm and are sold in tubs of 200 wipes.
These Pre-Saturated IPA wipes are available sterile by gamma irradiation. Please contact the team for more details.
Please note that this product is classed as Dangerous Goods and may be subject to shipping restrictions outside of the UK.
Please contact us for availability in your country before purchasing.
70% IPA 30% DI Water
200mm x 200mm (7.9in x 7.9in) per impregnated wipe
Polypropylene
Effective against gram-negative bacteria, fungi and most viruses
Effective against micro-organisms e.g. E.coli, MRSA, Listeria, Salmonella, HIV and TB
Fast contact time
Low linting
For use in ISO 6 Cleanrooms
Ideal for cleanroom and medical environments