Our sister technology consumables company, Integrity Cleanroom has just been featured in the leading publication for its sector, Cleanroom Technology. See the full article here, or see the full interview below.
The expansion of Integrity's critical environment services by constructing an on-site, ISO-6 Cleanroom at their HQ was a move that came chiefly from market demand for cleanroom facilities and services rental. A pan-global company, Integrity Cleanroom is part of The Ant Group of companies, serving production consumables to the electronics, wafer fabrication, bio-medical, aeronautical & defence industries.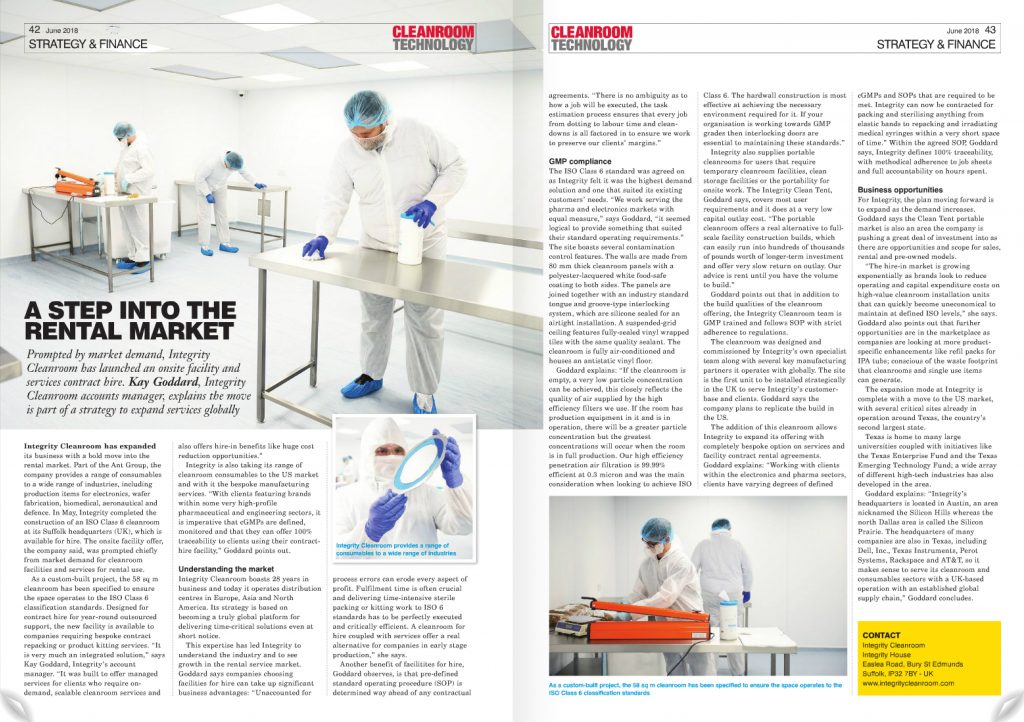 Q. Why Integrity decided to launch the rental service? Please consider explain market needs, growth opportunities for the business
A. The facility was designed for contract hire for year-round outsourced support for companies requiring bespoke contract repacking or product kitting services. "It's very much an integrated solution", says Kay Goddard, Integrity's account manager; "built to offer managed services for our clients who require on-demand, scalable cleanroom services and also offering hire-in benefits like huge cost reduction opportunities."  The company is expanding its cleanroom consumables into the US market and additionally the bespoke manufacturing services sector. With clients featuring brands within some very high-profile pharmaceutical and engineering sectors, it's imperative that CGMP's are defined, monitored and that they can offer 100% traceability to clients using their contract-hire facility.
Q. What are the benefits for companies to hire the facility?
A. Hire-in benefits are normally self-evident and often the specific customer-driven requirements can only be entrusted to a supplier like Integrity. The pre-defined SOP is defined way ahead of any contractual agreements, there is no ambiguity as to how a job will be executed, the task estimation process ensures that every job from dotting to labour time and clean-downs is all factored in to ensure we work to preserve our clients' margins.
Unseen or unaccounted for process errors can erode every aspect of profit, fulfilment time is often crucial, delivering time-intensive sterile packing or kitting work to ISO-6 standards has to be perfectly-executed and critically efficient. The portable Integrity® Clean Tent is an innovative design concept in cleanroom technology. Intended for users that require temporary cleanroom facilities, clean storage facilities or the portability for on-site work, the Integrity Clean Tent covers most user requirements at a very low capital outlay cost. The portable cleanroom offers a real alternative to full-scale facility construction builds, which easily can run into hundreds of thousands of pounds' worth of longer-term investment which offers very slow return on outlay. Our advice is rent until you have the volume to build.
Q. Why build the facility to ISO Class 6 cleanroom standards?
A. Quite honestly, the ISO-6 standard was agreed on as we felt it was the highest demand solution and one that suited our existing customers' needs. We work serving the pharma and electronics markets with equal measure, so it seemed logical to provide something that suited their standard operating requirements. ISO-6 also gives our highly trained team a distinct advantage over other cleanroom service providers who often use untrained casual labour which could compromise an entire operation. Integrity seeks to mitigate risks at every stage of our cleanroom operation.
If a cleanroom is empty, a very low particle concentration can be achieved, this closely reflects the quality of air supplied by the high-efficiency filters we use. If the room has production equipment in it and operating, there will be a greater particle concentration but the greatest concentrations will occur when the room is in full production. Our high-efficiency penetration air filtration is 99.99% efficient at 0.3 microns and was the main consideration when looking to achieve ISO Class 6. The hardwall construction is most effective at achieving the necessary environment required for ISO class 6. If your organisation is working towards GMP grades then interlocking doors are essential to maintaining these standards.
The cleanroom classification will often influence the layout of a facility – it's an expensive thing to get wrong if it's not planned with meticulous precision. For example, you can enter an ISO 8 cleanroom directly from an uncontrolled environment, but you will need airlocks before entering an ISO 6 environment. "It's this level of detail and consultancy that we are able to provide, that sets us apart from straight facility hire", continued Goddard.
Q. What company built the facility?
A. The cleanroom was designed and commissioned by Integrity's own specialist team along with several key manufacturing partners the company operates with globally. The site is the first unit to be installed strategically in the UK to serve the company's customer base and clients with plans to replicate the build in the US – clients are welcome to view the unit or watch the packing and kitting video online.
Q. What are the rental options?
A. Integrity offers a completely bespoke options on services & facility contract rental agreements. Working with clients within the electronics & pharma sectors, clients have varying degrees of defined CGMP's and SOP's that are required to be met. The company can be contract packing and sterilising anything from elastic bands to re-packing and irradiating medical syringes within a very short space of time. Within the agreed SOP's Integrity defines 100% traceability, with methodical adherence to job sheets, full accountability on hours spent and both services and facilities hire can be contracted daily, weekly or by longer-term agreements.
Q. Will the company build more facilities to offer for hire?
A. Integrity plan to expand as the demand increases, the Clean Tent portable market is also an area it's pushing a great deal of investment into as there are opportunities and scope for sales, rental and pre-owned models.
Q. What other projects are in the pipeline?
A. The hire-in market is growing exponentially as brands look to reduce operating and capital expenditure costs on high-value cleanroom installation units that can quickly become uneconomical to maintain as defined ISO levels. They are also looking at more product-specific enhancements like refills packs for IPA tubs, conscious of the waste footprint that cleanrooms and single-use items can generate.
Integrity is also expanding into the US market with several critical sites already in operation around the 2nd largest state, Texas.  It's home to many large universities coupled with initiatives like the Texas Enterprise Fund and the Texas Emerging Technology Fund, a wide array of different high tech industries have developed in Texas as well. The Austin area where the company have their US HQ, is nicknamed the "Silicon Hills" and the north Dallas area the "Silicon Prairie". Texas also has the headquarters of many high technology companies, such as Dell, Inc., Texas Instruments, Perot Systems, Rackspace and AT&T, so it makes sense to serve its Cleanroom and consumables sectors with a UK based operation with an established global supply chain.
Speak to the Integrity team on +44 (0)1473 836 205 or visit the website