ESD Packaging Supplies
The fundamentals of ESD control is to ground all conductors in the EPA (ESD Protected Area). Electrostatic discharge packaging will have highly technical bespoke material composition to lower the resistance so that when grounded, electrostatic charges will be removed to ground thus protecting your ESD sensitive devices inside.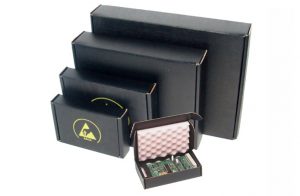 Our biggest sellers in ESD supplies are Antistatic Bags which are used in various environments and situations, we are one of the largest suppliers of Static Shielding Bags, Moisture Barrier Bags, Pink Antistatic and Conductive Bags. ESD packaging also covers a large range of static control products such as Corstat conductive corrugated board, ESD Storage Bins and Thermal Container Liners.
---
Antistatic Stretch Wrap

Antistatic Stretch Wrap is a new and innovative stretch film designed for use within an ESD Protected Area. Unlike conventional film, this stretch wrap has an impregnated antistatic agent which protects against the build-up of charges.  Our own-brand antistatic stretch wrap is ideal for wrapping pallets with static sensitive items and is just £16.50 per 300m roll.

Creates a strong, durable and electrostatic protective barrier for sensitive devices and components and comes with a surface resistivity >105 <1010

£

16.50