Integrated circuit/Component Tubes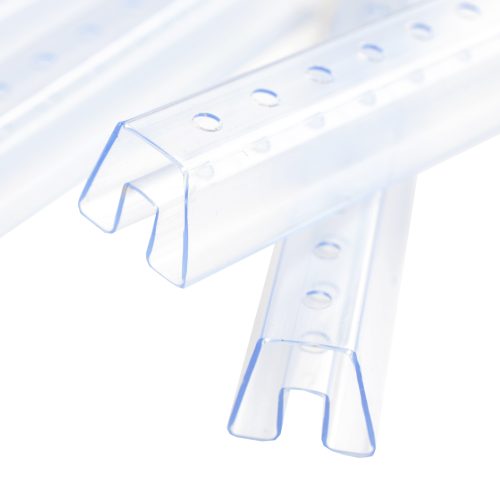 Our plastic IC/component shipping and handling tubes are manufactured from Polyvinyl chloride (PVC) with an antistatic surfactant treatment. Standard tubes for most package types are translucent so allow for immediate visual inspection of units within the tube. However, carbon-impregnated, black conductive tubes are also available when required. 
Tube profiles are designed with minimum clearance over the maximum package dimensions to reduce damage caused by movement of the device within the tube, during storage or transit.
For some package types, tubes have "riding rails" on which the packages rest while in the tube, the rails protect the fragile leads from touching anything in the tube. PVC tacks, nylon tacks, or rubber plugs can be used to retain the units. All tube wall thickness are between 0.025 inches to 0.040 inches.
Contact our sales team for tube dimensions, cross sections and the number of packages per tube for our standard package types.
A size to fit all applications
We supply a broad variety of IC/Component tubes which can be tailored specifically for your bespoke requirements:
• DIP Shipping Tubes
• Flatpack Shipping Tubes
• TO-220 Shipping Tubes
• Tube End Plug
• IC Tube Tak
• Cerquad Shipping Tubes
• LCC Shipping Tubes
• PGA Shipping Tubes
• PLCC Shipping Tubes
• PQFP Shipping Tubes
• PSOP Shipping Tubes
• SOIC Shipping Tubes