Antistatic Mats & ESD Flooring



Antistatic mats and ESD flooring are effective methods of controlling electrostatic discharge within the EPA. Antistatic matting slows down and controls the discharge allowing static electricity to transfer safely to the ground. It also protects the surface of the sensitive devices from wear and tear during processing.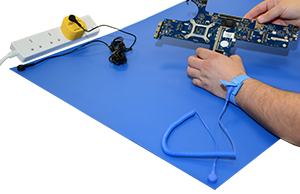 ESD matting is designed to drain static charge from items placed on its surface, for a mat to effectively ground an item, it must be either conductive or dissipative and be connected to a suitable grounding point. ESD mats are generally available as Vinyl or Rubber mats.
---
Antibacterial Multi-Layer Adhesive Mat – Pack of 8

Multi-layered clean-film full adhesive layers eliminate the need for messy cleaning and make it easy to maintain a clean surface. Each of the thin layers is coated with a highly developed adhesive containing an antibacterial substance, perfect for cleanrooms.

30 sheets per mat. 8 mats per case.

Please note, all tacky mats must be shipped flat and as such will be shipped on a pallet

From

£

84.23