Our durable and easily maintained ESD brushes have plastic bristles that are either conductive or static dissipative. Used within a static controlled area, the brushes are designed to dust PCBs and other static sensitive items that require particles removed safely.
The specially developed brushes are ideal for cleaning delicate components, integrated circuits and workstations surfaces.
Features and Benefits
Both conductive nylon and dissipative plastic bristle options
Ergonomic handles for comfort during prolonged use
Safely dissipate static charges without damaging electronic components
Important tool for any static controlled workstation
Firm bristles which are ideal for working with electronic devices
Applications
Cleaning PCBs
Brushing down workstations and antistatic mats
Cleaning delicate electronic components that require ESD protection
Download our size guide for the range of ESD brushes
[porto_buttons btn_title="DOWNLOAD" btn_link="url:https%3A%2F%2Fwww.antistat.co.uk%2Fwp-content%2Fuploads%2F2021%2F03%2F154-0149-ESD-Brush-Range.pdf" btn_align="porto-btn-center" btn_size="porto-btn-large" btn_title_color="#ffffff" btn_bg_color="#00add0″ btn_bg_color_hover="#81d742″ el_class="DOWNLOAD"]
Conductive Nylon Bristles
ESD brush made from conductive materials, suitable for cleaning PC boards and parts.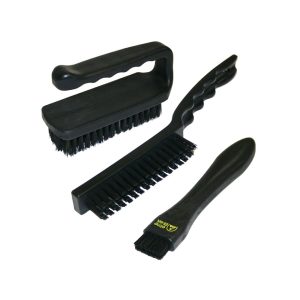 Dissipative Plastic Bristles
The brushes are ideal for cleaning and brushing away dust and particles to ensure a clean working area.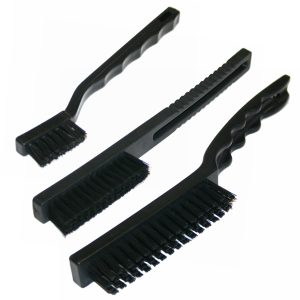 Contact an
ESD expert
on +44 (0)1473 836200
(lines open 9am – 5pm GMT Mon-Fri)
Contact us for more information on ESD brushes
We have a variety of brushes available in stock and ready to ship. Contact one of our sales team for more information.
Error: Contact form not found.