Antistatic Wrist Straps



Antistatic wrist straps are designed to safely ground operators working with ESD sensitive components, preventing a build-up of static electricity.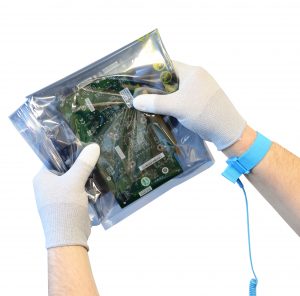 Antistat's range of wristbands are designed to be worn close to the skin establishing a path to ground. The comfortable materials allow users to wear the wrist straps for long periods of time and are able to suit many different applications whether it be refurbishing computer parts or assembling components.
Also known as an ESD wrist strap or ground bracelet is only effective when connected to a grounding source such as a grounding plug via an earth lead. An EPA will not permit any item that could potentially buildup static electricity, resulting in an electrostatic discharge (ESD).
Economy ESD Wrist Strap Set – 10mm Stud

A comfortable, fully adjustable Anti Static Wrist Band and Grounding Lead Set. The fabric wrist strap and stainless steel design is hypoallergenic to reduce the risks of skin allergies. With a 6ft long coiled earth lead, and either a 10mm press stud or 4mm banana termination, this is an ideal set to reduce the dangers of static electricity damage in your EPA.

Select your 10mm press stud or 4mm banana termination using the drop down on the right.

£

3.19