ESD Gloves
Antistatic gloves and conductive gloves are available in a wide range of styles, sizes and materials. Not only do they help prevent damage to ESD sensitive items when the user is grounded but they also provide protection against dust and particle contamination in critical production environments. A variety of palm and finger tip coatings ensure optimum dexterity and comfort for the operator.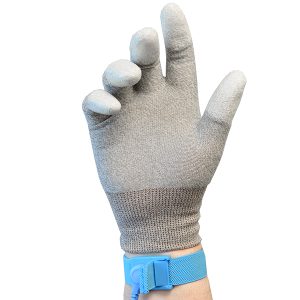 We stock everything from Seamless ESD Gloves, Disposable Nitrile Gloves, ESD Finger Tip Protection Gloves, PU Palm Protection Gloves – Our low-cost static dissipative glove range is the perfect solution for both EPA and Cleanroom use, each product comes with detailed features and benefits and is backed up a technical product spec sheet.
If you would like to know more about which static glove suits your application, call us on +44 (0) 1473 836 200 for expert advice.
ESD PU Palm Glove – Carbon Stripe

A Static Dissipative Knitted Glove with carbon stripe filament and PU coating on the palm and fingertips, they are ideal for handling electronic parts. These gloves, with their natural light grey carbon stripe and white coated palm, have coloured cuffs to enable quick visual identification of the size required. White for Small and Yellow for Extra Large.

Remaining sizes are low in stock with plans for product to be discontinued. 

£

3.21