ESD Grounding Consumables
Effective grounding protects sensitive areas from the damage caused from ESD. Our products are designed to maximise operator performance and safety by using high quality materials and build quality.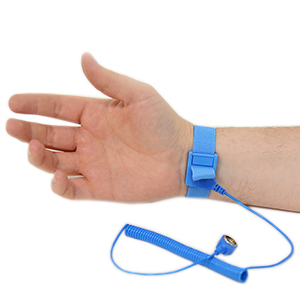 Static grounding requirements for operations with large working environments will often require the establishment of ESD protected areas. EPAs are sections of the workspace that are partitioned off from the rest of the facility and specially marked to notify employees and visitors of the potential for electrostatic events. We have been supplying thousands static items for over thirty years, from PC repair workshops right up to complex organisations like NHS and the MOD.
Antistat supply ESD wrist straps, sole and heel grounders, ESD plugs and bonding points as well as range of grounding accessories.  Call us on +44 (0)1473 836 200 if you don't see what you need, we can normally source grounding supplies within 24hrs or email us what you need to find. We are specialists in the supply and production of ESD protection.
---
2 Piece 10mm Press Stud Set

These Press Studs create earth grounding points on bench and floor mats for ease of connection to ground cord. Made of mild steel with bright zinc and passivation finish, these must be riveted through the mat material to be effective.

Order together with the Punch and Anvil set, code 067-0025.

£

10.95