Research shows that Anti-fatigue matting has a positive effect on employees who stand on cold, hard floors during long working hours. They are specifically designed to relieve physical stress on the body, improve blood circulation and reduce fatigue.
The guide below will help you choose the right type of matting for your industry, from our wide range.
ESD Textured EPA Anti-fatigue Matting
This matting is specifically designed for EPA areas with assembly, electronics, logistics and haulage and engineering industries. It is available in either a bubble or a disc designed surface, both offering positive benefits for employees standing for long periods of time.
Available 4 standard sizes, our matting is European made and comes with a 5-year guarantee* (use dependent). It conforms to DIN EN61340-5-1 with Rp 105 – 107 Ohms and Rg 105 – 107 Ohms. Creating very low friction when walking. ESD Textured Anti-fatigue matting is also available as a fire-retardant option (DIN 4102/B1).
ESD Anti-slip & Oil resistant Matting
Our ESD Anti-slip & oil resistant matting is the optimum ergonomic solution for wet, oily and slippery industry areas. It is resistant to most industry oils, fluids and chemicals. Made from 100% virgin nitrile rubber, it is oil and grease proof for industrial applications. It also incorporates an optimum anti-slip and anti-fatigue cone or disc surface design.
This matting has been especially designed for heavy usage areas with machines and workbenches in industries including; automotive, machinery, motor vehicles & trailer and transport equipment industries.
This product is available in 4 standard sizes, is European made and comes with a 3-year guarantee. It conforms to DIN EN61340-5-1 with Rp 105 – 107 Ohms and Rg 105 – 107 Ohms.
Antistatic Anti-fatigue Deck Matting
Antistatic Anti-fatigue Deck Matting designed for assembly lines and operator ESD areas in automotive, electronic, medical, pick & pack and cleanroom industries. This matting features yellow safety boarders, ramped edges on all sides and a ESD logo for easy identification. It can also be supplied as a roll for larger industrial areas.
It incorporates a strong top surface that is laminated onto a antistatic elastic cushion, is easy to clean and provides a high standing comfort.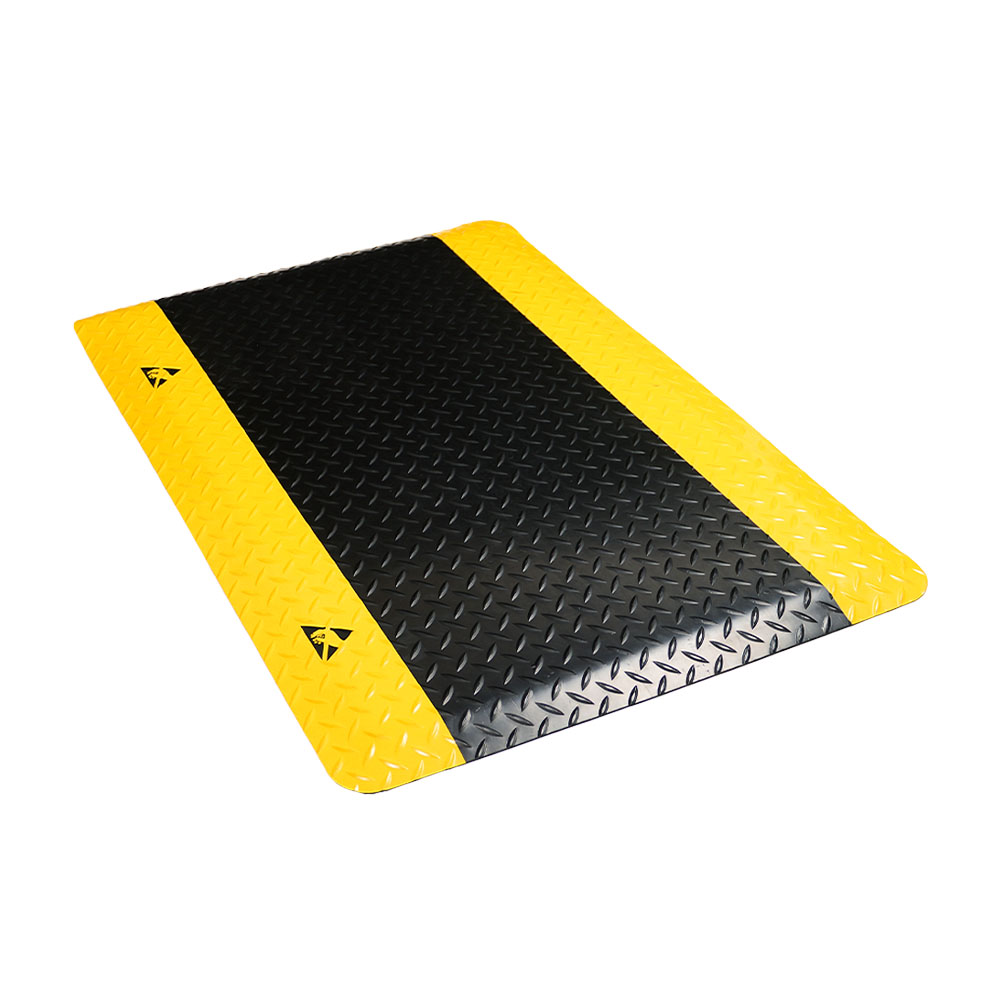 To see our full range of Anti-fatigue Matting please click here or contact one of our specialist team today.